C8 Update – IHS Markit Bond Indexes on C8 Studio – Nov 2020
IHS Markit and Corporate Bonds
C8 is a market leader in providing Direct Indexing for stocks, futures and foreign exchange indexes/strategies, allowing clients to easily trade the underlying instruments of an index themselves, with their own broker.  We have received multiple requests to add corporate bond indexes onto the C8 platform. We are therefore delighted to announce that IHS Markit, the pre-eminent provider of corporate bond and credit indexes, are adding their iBoxx indexes to the C8 ecosystem.
C8 is currently building out its corporate bond offering, creating index tracking solutions for iBoxx indexes, as well as providing customised fixed income portfolios for individual clients. Robert Minikin, former Head of European Fixed Income Strategy for Citibank, is joining C8 to head our move into fixed income and credit markets. Robert has decades of fixed income experience, making him a valued addition to the C8 team.
We aim to launch our Fixed Income Direct Indexing solution in Q1 2021, initially extending our ESG offerings into corporate bonds.
C8 Expands Into the US
We are also excited to announce that William Herkelrath has joined us in New York as Key Account Manager for North America. William has been a friend and contributor to C8 from our early days, and brings with him a significant amount of experience in using technology to disrupt previously complicated workflows in portfolio analytics, idea generation, and asset allocation.
His expertise has also centered specifically on launching fintech solutions from their very first iterations all the way through to broad market adoption, which will add significant strength to both our strategy and execution moving forward.  We look forward to introducing our North American clients to William over the next few weeks!
New Index Provider:  Alpha Vee
In line with our expansion into the US, a new US index provider, Alpha Vee, has joined the C8 platform, with 7 Alpha Vee indexes added to C8 Studio.  Alpha Vee typically apply a systematic, top-down investment approach, which is a valuable addition to the C8 Studio index universe.
A good example is the Risk Managed Allocation US Equity and Treasury Index. This index adjusts the allocation each quarter between an equity portfolio and the iShares 7-10 Year Treasury Bond ETF.  The variable allocation is determined according to a proprietary fundamental momentum based indicator that scores the quality and value of the overall equity market.
The equity portfolio is selected from the universe of the largest 500 companies, taking the top ranked 50 equities based on a fundamental multi-factor approach, using factors such as return on capital, return on equity, price to operating cash flow, debt to % equity and a proprietary sector factor.
As the chart below shows, this methodology has performed well over recent years, particularly in the out-of-sample period (bold line).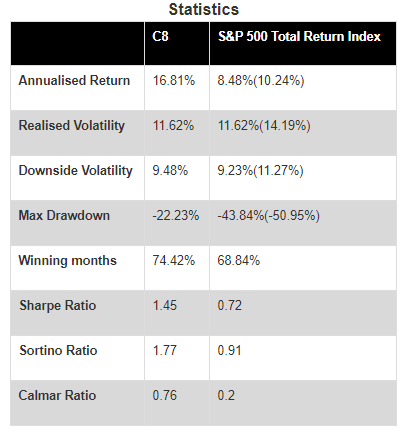 BidFX Adds C8 FX Indexes
In September, we discussed C8's upgrade to our technology offering, where clients can now use their apps, web clients or tools to access our technology.  This is done via an API, using the latest REST technology, which is independent of the client's own technology.  BidFX, the leading cloud-based provider of electronic foreign exchange trading solutions, has agreed a partnership with C8 Technologies, to do just that.  The joint venture will allow C8's tradable FX Indexes to be tracked, and executed, directly on the BidFX platform.
Initially, the C8 FX Combination Index, a monthly-trading, systematically-weighted aggregate of C8's FX macro and risk premia Indexes will be available, with more to follow, including AI-driven FX Indexes.
C8, S-Network, Efficient Alpha webinar to discuss "Applying Investment Methodologies to the Public Markets, Using Direct Indexing"
A webinar will be held on Wednesday, 2 December, at 10am EST and 3pm GMT, Mattias Eriksson, C8 CEO, will join Patrick Shaddow, Head of Index Operations at S-Network, and Doug Sherrer, founder of Efficient Alpha Capital (EAC). Attendees will have a tour of C8 Studio as well as a discussion on one of the innovative indexes based on Private Equity Metrics, developed by EAC, with the assistance of S-Network. Please register below for what is sure to be an interesting discussion (and it is eligible for a CFP CE credit!):
Thanks for reading,
The C8 Team
C8 Technologies, Michelin House, 81 Fulham Road, London, SW3 6RD, UK, +44 (0) 20 3826 0045